About Us
Ever Pretty Garment Inc. has over 17 years of experience in the fashion industry, serving thousands of customers across the globe. Getting our start in the ever changing European fashion market, we brought our sartorial expertise to the US in 2011. With an eye on global fashion trends we design our dresses for today while envisioning them to be timeless additions to your closet that you'll wear for years to come.
We know that the modern woman's life is peppered with important events from prom to graduation, Girls' Nights Out to weddings, date nights to your first job and everything between! That is the motivation behind our design: we want you to look and feel your best for every single moment life throws your way!
With so much going on in your crazy, busy, wonderful life we want to make finding the perfect dress for any occasion fun and easy. That's why we put our entire collection at your fingertips!
Let us make you pretty forever! Happy Shopping!
For general questions, questions about existing order issues, dress details or to place an order, click live chat or email customerservice@ever-pretty.com. We will reply to your email within 24 business hours. Live chat is available Monday to Friday.
PROFESSIONAL STYLE GUIDES
Company Milestones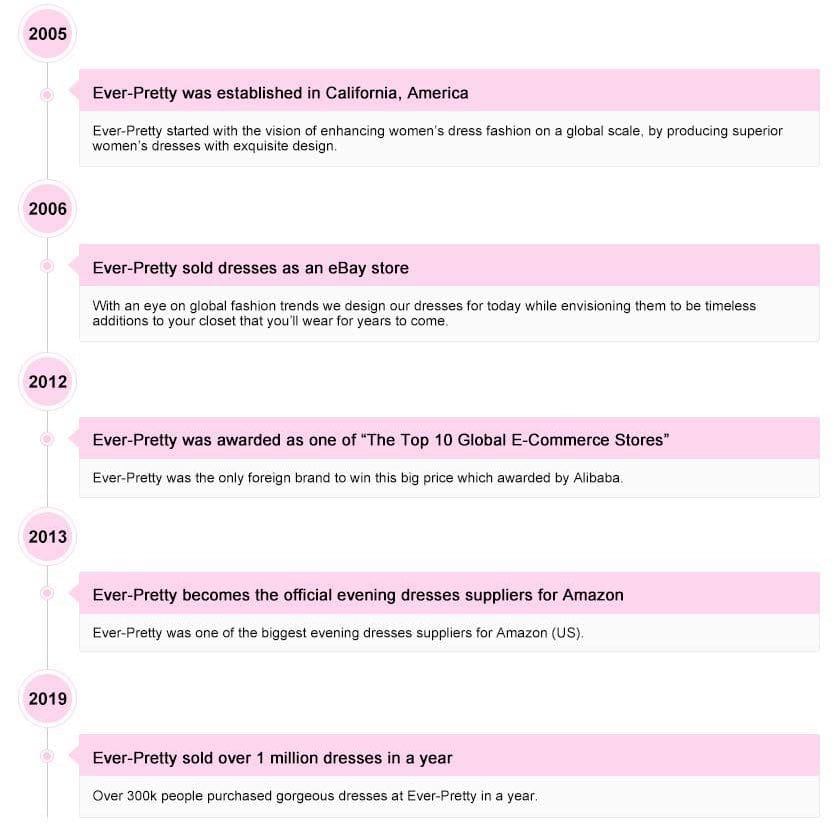 Our Headquarters:
EVER PRETTY GARMENT INC.   Business  Address:16721 Noyes Avenue Irvine, CA 92606.
EVER PRETTY FASHION CORPORATION LTD.   Business Address: 29 Harley Street ,London , United Kingdom, W1G9QR